With great anticipation and excitement, the Basketball National League returns to action this weekend as it hosts 9 of its teams at the Wembley Arena, Johannesburg. This marks the first action in over 8 weeks after the League had games postponed due to health precautions following the second wave of the coronavirus in South Africa.
Prior to the halt, the league was garnering momentum with a total of 699 points scored, and 392 rebounds grabbed over just 6 games played. Viewership and ratings were high, and fans were looking forward to seeing more teams in action.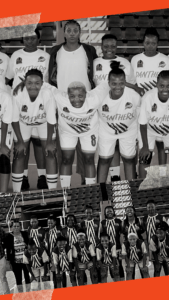 To open this jampacked weekend, the Soweto Panthers ladies will host Egoli Magic in a Johannesburg derby. The Sowetans who are currently sitting at the bottom of the log table will look to get on the winning column against the offensive and defensive juggernaut that is the Egoli Magic. The Panthers shoot 0.0 percent from long range, which is worst in the league along with the Magic, but they do a great job controlling what they can, as they lead the league in rebounding at 53 rebounds per game. The Magicians took care of business against a strong Tshwane Suns' side in their opening encounter, displaying brilliant execution on both ends of the floor. The young Panthers will have their hands full trying to tame the Egoli Magic team led by Emma Makoni who performed admirably against the Suns. This juicy matchup will tip-off at 15h00 on Friday, 26 February at Wembley Arena, and will also be shown live on Supersport.
Following the ladies' game, The KwaZulu Natal Marlins will travel to Johannesburg to face the Mpumalanga Rhinos at 17h00 on 26 February. The Kings men will look to draw the first blood against the newly floated Rhinos team who will be playing without their usual line-up following the League's suspension of their team last season. The last time these two teams met, The Marlins enjoyed an 11-point victory in a match where Rhinos' Nkosinathi Sibanyoni who finished with 14 points and 20 rebounds was the only Rhinos player that scored in double digit. The Marlins on the other hand had 6 of their players scoring in double digits with Mthokozisi Masondo leading the way with 15 points and 10 rebounds while Liam Reid, Grace Lufungula and Sifiso Gininda poured in additional 12 points each.
Action continues on Saturday and Sunday with the Western Cape Mountaineers, Eastern Cape Windbreakers, Limpopo Pride, Northern Cape Zebras and Tshwane Suns ladies all battling to secure a spot in the playoffs. Below is the full fixture list for the weekend:
Friday: 26 February 2021
Game 07 - 15h00 - Panthers vs Magic (Women)
Game 08 - 17h00 - Rhinos vs Marlins (Men)
Saturday: 27 February 2021
Game 09 - 10h00 - Marlins vs Rhinos (Men)
Game 10 - 12h00 - Suns vs Magic (Women)
Game 11 - 14h00 - Mountaineers vs Windbreakers (Men)
Game 12 - 16h00 - Pride vs Zebras (Men)
Sunday: 28 February 2021
Game 13 - 10h00 - Windbreakers vs Mountaineers (Men)
Game 14 - 12h00 - Magic vs Panthers (Women)
Game 15 - 14h00 - Zebras vs Pride (Men)